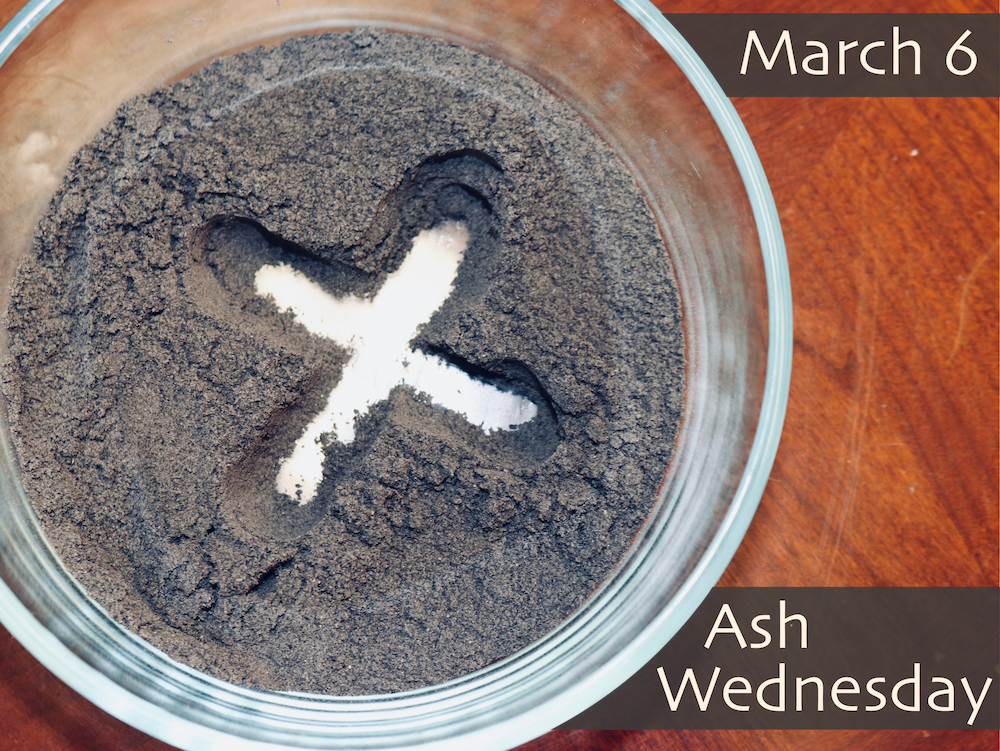 Join us at 6:30 on March 6th for our Ash Wednesday Service
Last year we had our first Ash Wednesday Service, but you may still be confused.  Ash What? Isn't that a Catholic thing? It is an old church tradition on the first day of Lent. Wait, what is Lent? Lent is the 40 days (not counting Sundays) before Easter. It is time to prepare for Easter. It begins with a service of repentance called Ash Wednesday. During the service each person is marked with a cross of ash. Either on their forehead or the back of their hand.  (This can be washed off directly, if the person chooses.)
This symbol is why I hope you will join our service. It is a powerful reminder of what we have done, but also what God has done for us. 
First the ash represents repentance. This goes back to the Old Testament where people repent with ashes (check out Job 42:7, Esther 4:1, and Jonah 3:6, and there are many more). Why ashes? It is tied to the first sin, when God is outlining the consequences, "for dust you are and to dust you will return" (Genesis 3:19). 
Yet the ash has an even deeper significance, because it is made with the palm branches from last year's Palm Sunday service. The crowd that shouted "hosanna" soon shouted "crucify". We join in repenting for how we have not honored our Savior. 
Second the form of the cross represents redemption. We do not have the OT faith that remains in ashes. We follow Jesus, who was raised up on the cross, sacrificing himself. Death – the consequence of sin – was defeated and Jesus ROSE!  
So in repentance we go with Jesus to the cross, which is the very place we find resurrection. So our ash is marked with the cross, marked by resurrection! 
Of course you may still have questions and concerns. One concern I heard  last year was that the roots of Ash Wednesday went back to Norse religion. Until last year I had never heard that idea; instead, I understood it went back to early church practices. I did a google search and found websites saying both. And of course there are sites that say Christmas is simply the Winter Solstice. To which I would say, God redeems all things. After all, Jesus came to save pagans! 
But concerning Ash Wednesday, there is evidence of ashes in early church and, as I mentioned, in the Bible. I can not be sure of all that has influenced the current Ash Wednesday service, but what I see is repentance and redemption. The very thing we seek at Chandler. 
This is why I hope you will join our service. If you have questions, please contact me, and I look forward to worshipping with you.
Sean