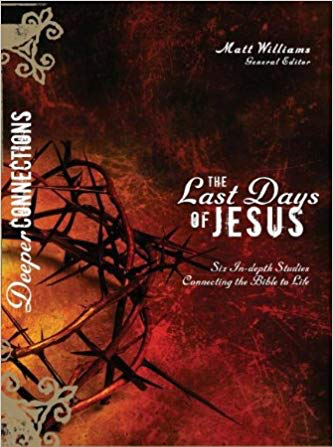 The Last Days of Jesus
Please join us beginning Wednesday, September 4, 2019, at 6:15 p.m. in the media room following dinner for a 6-session study entitled The Last Days of Jesus. From Jesus' triumphal entry into Jerusalem to His glorious resurrection, this DVD Bible study provides a fantastic overview of six major events: Peter's confession at Caesarea Philippi, and Jesus' transfiguration, triumphal entry, the last supper, death, and resurrection. Each of the six sessions starts out in Israel, showing key locations such as the Garden of Gethsemane and the Mount of Olives. The videos of sites in Israel set the scene for the scripture study each week. The scripture portions each session are taught by leading scholars and professors who offer excellent overviews along with historical and cultural context. This study will deepen our understanding of key Easter events. Each week's DVD session is between 25 to 35 minutes long, so we will have time each class to discuss and apply the scripture we study each week. Feel free to bring a friend!
Following this study, in October we will begin viewing DVDs from the Sight and Sound Theater in Branson, Missouri. Provided by Mike Loveridge, these DVDs tell the Hebrew Scriptures/Old Testament stories of Noah, Jonah, Joseph, Moses, and Ruth.