Visiting a new church can be intimidating: What should I wear? Where do my kids go? We understand the many thoughts that can come from visiting a new place, so we want you to feel completely comfortable when you visit.
Below are some frequently asked questions and we are HAPPY to meet you when you arrive. If you let us know you are coming in advance we will have some one ready at our welcome desk (which is right through our main doors). This person can give you a tour, answer questions, and get you safely to coffee and donuts! Please contact our Pastor Sean: sean@chandlerbc.org, or our church office: office@chandlerbc.org
---
When are services?
The easist way to jump into Chandler is through our Sunday morning worship which begins at 10:30 in the sanctuary. We have all kinds of other activities, for many different age groups, learn more on the Get Involved page.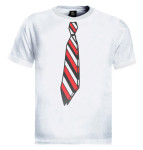 What should I wear?
Chandler welcomes everyone. On any given Sunday, you will find people in full suits and others in shorts. We understand that everyone worships God from different places. For one person, it is important to dress up before entering worship, but another person relishes our God who accepts everyone as they come. And in Christ we all unite under His banner of love.
How do I get to Chandler?
Chandler is located at the crossroads between Liberty, Kearney, and Excelsior Springs. Specfically on Hwy 33, just north of the intersection with Hwy 69. Our families are connected to all three communities and many in between and beyond. We would love for you to come and join us. You can learn more on the Find Us page.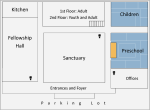 Where do my children go?
Your children will jump into a safe and loving environment. A place where they can have fun and learn more about our God who loves them very much. Click to enlarge the building map. The Yellow is the check-in counter, where our Nursery Coordinator will provide directions and information. Learn more on our Children's page.