*** COVID UPDATE — All our ministries and classes have changed to help keep you and our community safe. Some classes meet over Zoom or outdoors. If you would like more information please contact the church office or Pastor Sean. (Click here to learn about in-person worship.)
---
Children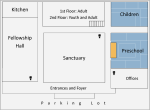 Our children are the future and we want to make the best future possible. Join our amazing programs for kids. For building locations, click on the church map to the right.  The blue-highlighted areas will help you know where to take your kids in advance!
Sunday School – Sundays @ 9:15am
Chandler Kids – Wednesdays 6-7:30pm (during school year).  
If you have questions please contact our office: office@chandlerbc.org
---
Students
Whether it's asking hard questions or playing ridiculous games, our youth group is place where students will find community, purpose, and freedom to be real as they figure out what it means to follow Christ.
Sunday School – Sundays @ 9:15 pm
Youth Group – Wednesdays @ 6 pm  (during school year)
---
Music
Music at Chandler has a place for everyone and every style. Join the choir or bring your guitar to lead worship. Or you could become a part of the orchestra, which even includes a full drum set. In everything and every way we sing and play our Savior's praises!
Orchestra (TBA)
Choir Practice (TBA)
If you have questions please contact our Music Minister, Tamara Everly: tamara@chandlerbc.org
---
Adults
Every Sunday Morning at 9:15 Chandler has a wide variety of Sunday School classes for adults. Different curriculum, different styles. You can find the right place for you. 
Small Groups: Chandler has small groups meeting at different times and days. For details please contact the church office: office@chandlerbc.org.
---
Missions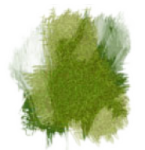 Church is not designed to stay inside. After all, we are the children of God. Just like kids, we are supposed to go outside and return dirty with grass stains! The purpose of the church follows Christ out to love His world.  We serve in a variety of ways. From Serve Sunday, when we turn Sunday morning into a service day. To mission trips traveling across the world. To quilters making blankets for a low-income preschool. We have set course to fulfill the call to Love in action, because Christ first loved us!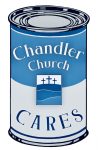 Chandler Cares Food Pantry — During the Covid shutdown our church began food delivery to local families. This transformed into food pickup and now happens every week (Sunday at 11:30). We need volunteers and food donations (see Margaret Ann for details!). 
---