Our purpose is to provide a safe, Christ-centered and loving environment where parents can confidently leave their children. We recognize the importance of the early years when first impressions of faith, Christ, and the church are being formed; and we want to make our nursery through children's classes a positive experience for parents and children. Our teachers have been screened with background checks and follow our Child Protection Policy.


Chandler Kids (Wednesday 7-7:15)
On Wednesday we meet in the Fellowship Hall. We begin with snack supper, then divide up into classes by age. There will be games, crafts, and a lesson connecting our kids to Jesus! All the classes return to the Fellowship Hall at 7:15 for pick-up.
Parents, while you kids are having fun, you can enjoy the fellowship at Adult Swim!
---
Sunday Morning Schedule
Donut Hole Fellowship – (9:15 am) Parents may drop off children in the art room (behind the preschool welcome counter) for Donut Holes, singing, and fellowship. Parents may then enjoy the coffee fellowship located in front of the Fellowship Hall. Children will be taken to class following this fellowship time.
Sunday School – (9:30-10:15) For information on location and ages of classes, ask at the Preschool counter or church welcome center. Parents pick up your children from classrooms. Younger Children will move directly to Worship Childcare.
Worship Childcare – (10:15 — End of Worship) Babies thru Pre-K enjoy games, snacks, and a Bible story in our Nursery & 2's-3's room. They may also go out the playground during this time.
Children's Church: Big Kids get to go to Big Church. But each Sunday, except the first Sunday of the month, the children leave before the sermon to attend Children's Church. The location is announced each week as we utilize a variety of building locations.
---
Check-in
Our check-in system is for Babies thru Pre-K and adds a level of security for our youngest children. Check-in is at the preschool welcome counter. (See map below, counter is marked in Yellow.)
---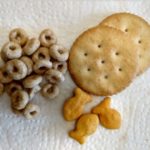 Snacks
We all love snacks! We are careful of any allergies. We serve nut-free snacks, generally Goldfish, Cheerios, or Ritz. If your child has any allergies or you have any concerns, please make us aware.
---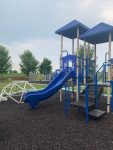 Playground
Kids will often head outside and enjoy our awesome playground. It has two areas, one for smaller kids and one for bigger kids. There is a green space and a rock wall!!
---