Gabriel visits Mary
26 Now in the sixth month the angel Gabriel was sent from God to a city in Galilee named Nazareth, 27 to a virgin betrothed to a man whose name was Joseph, of the descendants of David; and the virgin's name was Mary. 28 And coming in, he said to her, "Greetings, favored one! The Lord is with you." 29 But she was very perplexed at this statement, and was pondering what kind of greeting this was. 30 And the angel said to her, "Do not be afraid, Mary, for you have found favor with God. 31 And behold, you will conceive in your womb and give birth to a son, and you shall name Him Jesus. 32 He will be great and will be called the Son of the Most High; and the Lord God will give Him the throne of His father David; 33 and He will reign over the house of Jacob forever, and His kingdom will have no end." 34 But Mary said to the angel, "How will this be, since I am a virgin?" Luke 1:26-34 NASB
Mary's confusion shows in her response, "How will this be?" Had Mary picked up on the similarities to Isaiah 7:14 "The virgin will conceive and give birth to a son" at this point? Not quite yet. She was still in need of more information, so she asked, "How will this be?" Further information from Gabriel revealed that this new path would hijack the plans she had for her future. No more the wedding of her dreams, but instead she and her family would have to deal with public disgrace. What effect would this have on her beloved, Joseph, on their relationship? What would married life look like now? Would she be able to get married now?
"35 The angel answered and said to her, "The Holy Spirit will come upon you, and the power of the Most High will overshadow you; for that reason also the holy Child will be called the Son of God. 36 And behold, even your relative Elizabeth herself has conceived a son in her old age, and she who was called infertile is now in her sixth month.  37 For nothing will be impossible with God." 38 And Mary said, "Behold, the Lord's bond-servant; may it be done to me according to your word." And the angel departed from her."  Luke 35-38 NASB
Somehow Mary was able to accept this change of course in her life and respond, "may it be done to me according to your word". I am amazed that Mary could wrap her head around all of this and come to this point in the period of one conversation. It often takes me days to come to grips with changes in my plans. I think the only way Mary was able to say, "may it be done to me according to your word" was that 1) she knew scripture, Gabriel's words were in line with Scripture. 2) Mary had cultivated a deep relationship with her Lord. She already trusted God. She already knew that her Lord was with her.
How might God be calling you to better cultivate a relationship with Him that will enable you to graciously accept major changes in your life's path and trust that our Lord is with you?
Activity:  Try your hand at making a paper angel for your Christmas tree.  My favorite is found here:  DIY angel with paper – Make an easy Paper Angel – Christmas tree decorations – YouTube   (For a simpler version leave out the cuts.)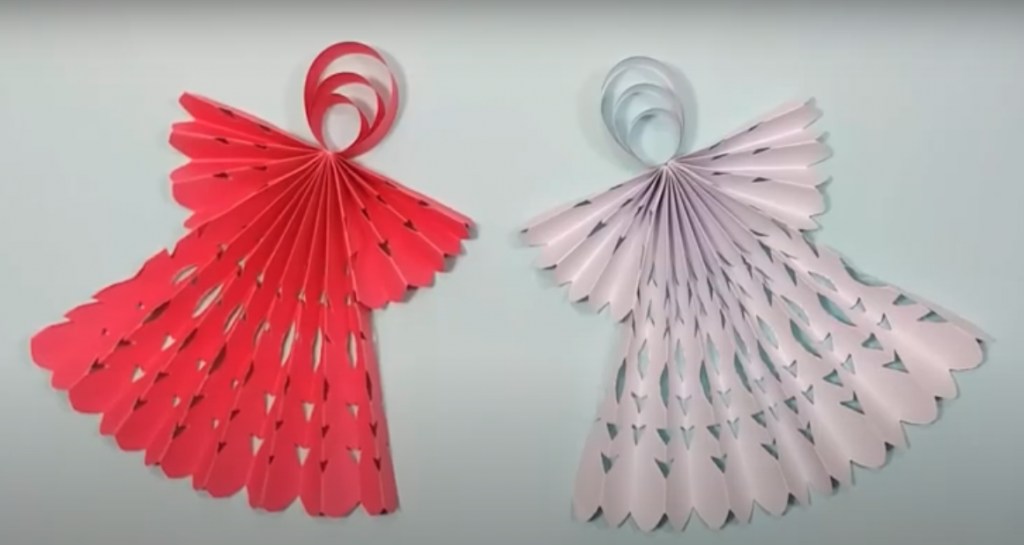 from Susan Patton