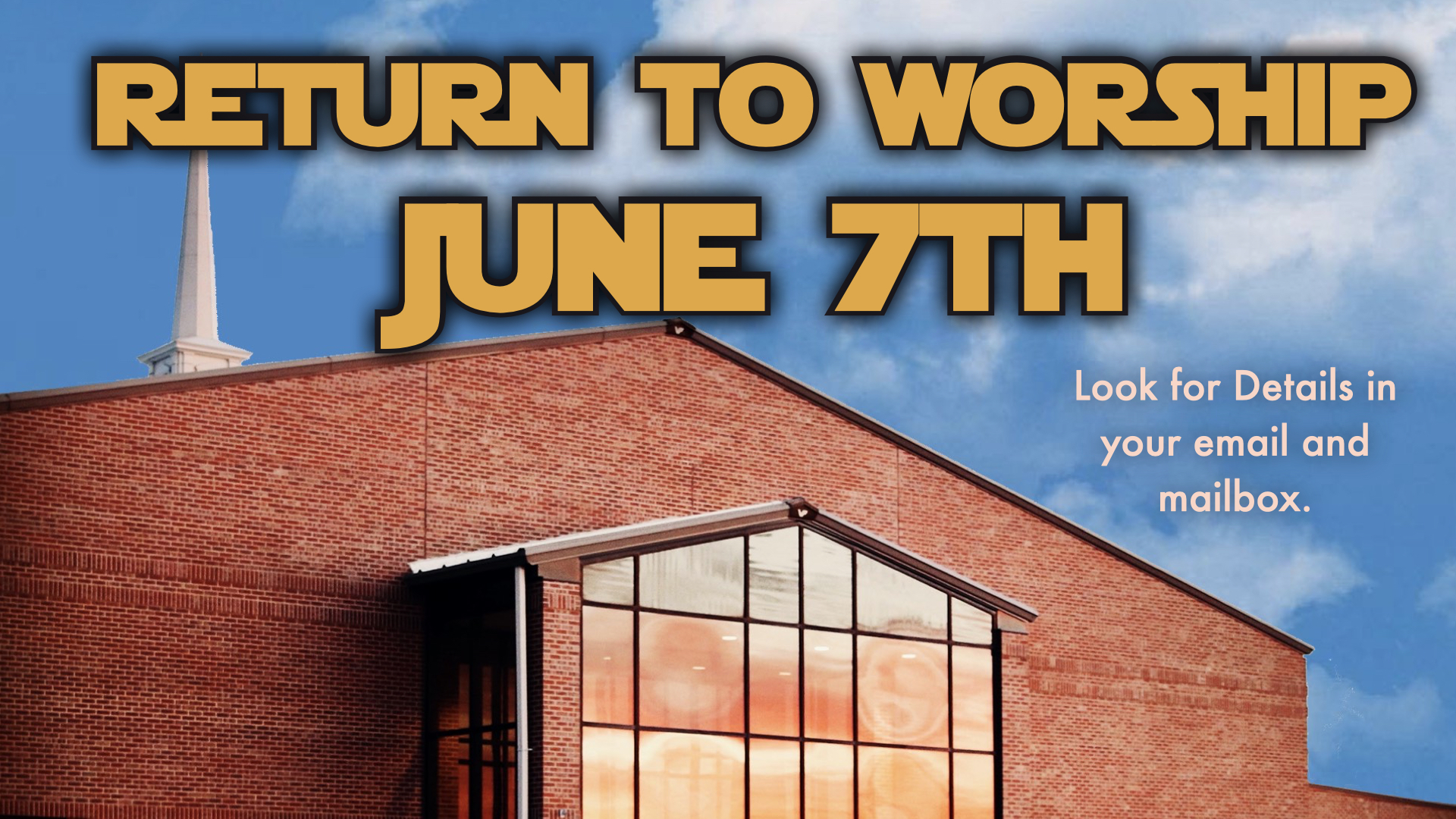 The COVID19 pandemic and quarantine have been difficult, but we are excited to worship again in person on June 7th. We rejoice at the chance to be together, but we are also taking every precaution to protect the most vulnerable in our congregation. We know that not everyone will be comfortable attending yet, so we will continue to offer digital services by broadcasting the in-person service online. For those who do plan to attend, we have listed below the steps we are taking (and are asking you to take) to protect one another as we gather together.
Greeters: A team of Chandler's nurses is taking the lead to welcome worshipers (from a distance) and will help them navigate the environment.
Deep Cleaning: Before you arrive, every part of the church will be sanitized. Our custodial staff will be wiping walls and cleaning carpets. We are also using a disinfectant company, Pure Air, to clean every surface. Before and after the service our Greeters will disinfect every touch surface (door handles to light switches).
Space: To ensure every area we encounter is sanitized, parts of the church will be blocked off. The open areas will be the three entrances, the foyer, the sanctuary, and the two front bathrooms. Closed areas will be the back hallways and the fellowship hall. We will not have coffee or donuts, nor will we offer any in-person small groups (Zoom groups will continue).
Masks: We will ask everyone (over two years old) to wear a mask. If someone does not have a mask, we will provide them with one. Wearing masks will provide essential protection for the most vulnerable among us. Your gracious act reflects the social responsibility we have to one another and will help to protect all who attend our services.
Social Distance: We ask that as you enter the building, please go directly into the sanctuary and be seated. To maintain six feet of distance, we will block off every other pew. You can sit together with your family. The rows will be clearly marked: they will either be open or will be taped off. Please sit at the end of an open row.
No Children's Nursery: As we reopen we will not have nursery during worship. For safety we will only provide coloring sheets–no crayons, pencils, or boards–for the children in our services. Parents are welcome to bring their own coloring supplies.
• The staff is aware of our smallest members and will keep services timed appropriately, along with offering certain elements for children.
• If your child cries, please do not worry. We are happy to hear from our church's children. With Jesus, we say, Let the little children come and cry!
No Plates, Bulletins, or Hymnals: To help minimize the surfaces we touch, we will not distribute bulletins, use the hymnals, or pass the offering plates. There will be plates at the back of each section of pews, along with our regular giving boxes, for those who would like to give their tithes.
Our church council has created this plan and we invite your feedback. If you have concerns or need a mask, do not hesitate to reach out to any church council member.